11 Days Canoe Tour package
Most of our canoe tours begin with transportation to a commonly agreed upon location. From there you will paddle back to Hällefors. You can also choose a tour which begins in Hällefors, where we will pick you up at the end of the tour instead. Or you combine these two options on these eleven-days. All our tours take you through stunning nature and wilderness. Here, you have the option to spend the night at designated camps with shelters, outdoor toilets and fireplaces. You can also choose your own spot in the wilderness, such as a beach, a peninsula, an island, or in the forest, somewhere along the river. There is even more to discover when you paddle through narrow side-rivers or take a detour into the wild.
On site, you will receive further information on your chosen tour. Our tours are very suitable for both swimming and fishing, as well as (from ca. mid July) berry- and mushroom picking. Before starting your tour, you will receive maps, tour information, instruction and our personal tips.
The basic equipment includes: Canoe with paddle, life vest, canoe wheels, cushion, tour briefing, maps, nature card, spade, bucket, sponge, rope and transportation.
The package including camping equipment comprises the basic equipment, tent, sleeping mat, tarp, gas cooker (with 2 pots & gas), axe and saw.
The combination package includes the basic equipment, the first night in a hostel room and the other nights in tent in the wilderness.(your own or our rent tent)
Basic Package
2460
sek/person
Canoetour incl basic equipment
11 Days/10 Nights
Canoe + Basic equipment
Tour briefing
Naturecard
Transfer
Minimum of 2 persons
Children 50% discount (up to 15 years)
incl Camping equipment
3270
sek/person
Camping equipment
11 Days/10 Nights
Camping equipment
Canoe +Basic equipment
Tour briefing
Naturecard
Transfer
Minimum of 2 persons
Children 25% discount
Combination Package
2530
sek/person
Combination
11 Days/10 Nights
1 Night in Hostelroom, incl sheets
9 Nights in nature (in your own or rent tent)
Canoe + basic equipment
Tour briefing
Naturecard
Transfer
Minimum of 2 persons
Children 25% discount
INSPIRATION AND MORE INFORMATION
| Extra Equipment | 4 - 8 days | 10 - 15 days |
| --- | --- | --- |
| Tent 2-3 pers | 450 SEK | 600 SEK |
| Groundmatrass | 80 - 120 SEK | 100 - 150 SEK |
| Gascooker, incl pots and gas | 400 SEK | 500 SEK |
| Tarpaulin | 100 SEK | 150 SEK |
| Cutlery (per person) | 75 SEK | 100 SEK |
| Axe | 75 SEK | 100 SEK |
| Saw | 75 SEK | 100 SEK |
| Sleeping bag, incl innersheet | 150 SEK | 220 SEK |
| Fishing equipment set, incl bites | 300 SEK | 400 SEK |
| Extra barrel - 60 L | 150 SEK | 200 SEK |
* Naturecard. Local authorities charge a fee for canoeguests paddling in the Svartälven area and hiking the Silverleden track. This 'Nature Card' gives you acces to prepared shelters, fire places, wood, toilets and garbage containers along the route. This card is included in our tour prices.

Linder Inkas 465-495-525 cm.
Hiring Kayak as the other paddling nature-experience!
Vi have kayaks for starters and for more experienced
Kayaks are even often used as a supplement in a canoegroup with an odd number of participants
Oasis Rainbow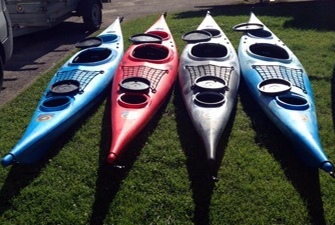 Point 65 Jack
Hällefors, in the middle of the wilderness
We are located just 1 km from the center of Hällefors and centrally located for wilderness adventures. Near Svartälven, Silverleden, the nature reserve Knuthöjdsmossen and Grythyttan. An ideal starting point or destination for your canoe, kayak, hiking trip or one of our other outdoor activities!
Questions or own suggestions?